Forge of Fortunes Slot review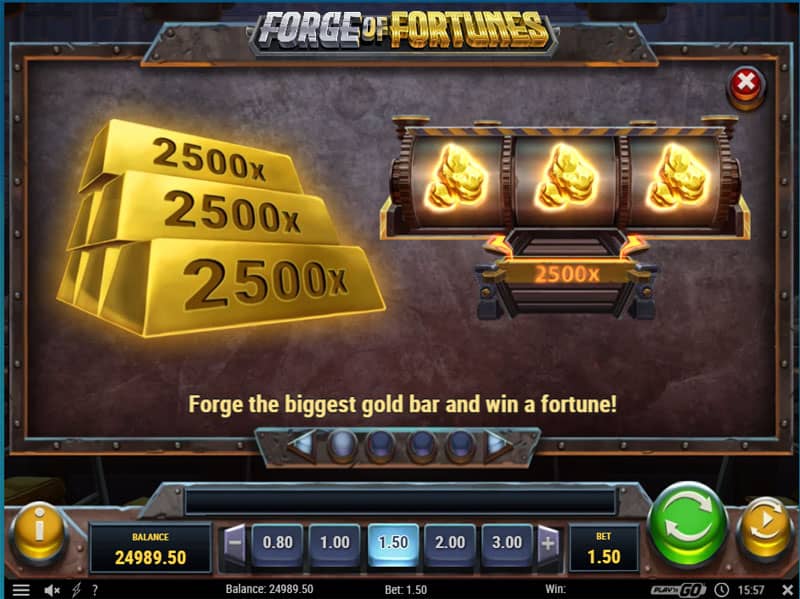 CLICK HERE TO PLAY FORGE OF FORTUNES SLOT FOR FREE OR REAL MONEY
Forge of Fortunes
Forge the biggest gold bar in Forge of Fortunes online slot. Powered by Play'N GO, this 3-reel, 1-payline slot is as simple as it gets. Players who get three (3) gold nuggets will trigger the "Forging Re-Spins" feature. Players who get three (3) more gold nuggets receive more Re-Spins and increase the total win of the "Forged Prize". Forge of Fortunes pays out up to 2,500 x your total wager, so get down to mining precious metals and smelting them in our Forge of Fortunes Slot review.
Strange slot releases Play'N GO's Forge of Fortunes are known to occasionally crop up. One that comes to mind is by Pragmatic Play, which also has one single payline!
Play'N GO's Forge of Fortunes is set in a foundry that makes gold bars. You only get 3 reels with one single payline. The base game can deliver either a 1x win, no win or the Forging Re-spins feature.
Players will get to see the Re-spins feature regularly, and this is good because there is hardly anything else to see.
The Re-spins round is all about forging gold bars, and every gold bar you create will take you up a step on the ladder prize while also providing players with another Re-spin. Forging only takes place when 3 identical gold nuggets land on the grid, while coal pushes you back one tier. Getting a single slug is enough to stop the machinery, breaking the feature at the current prize level.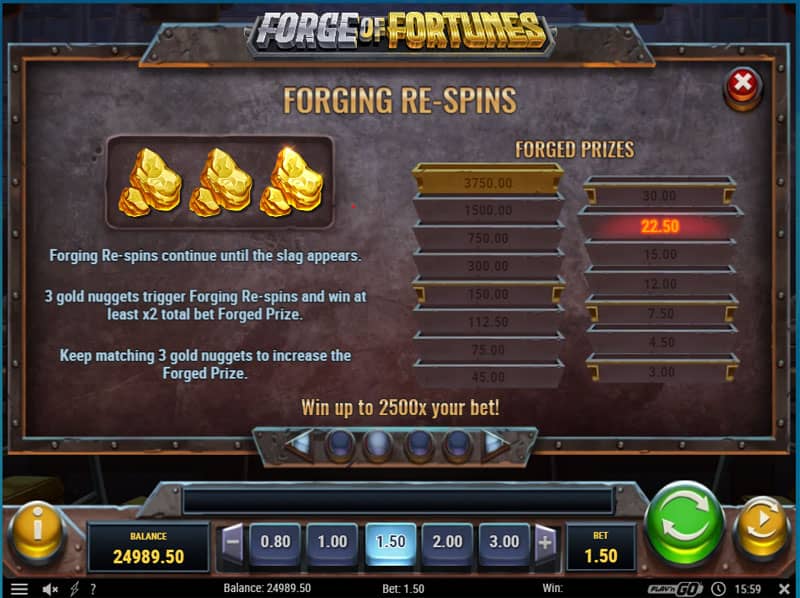 Forge of Fortunes: Forging Re-Spins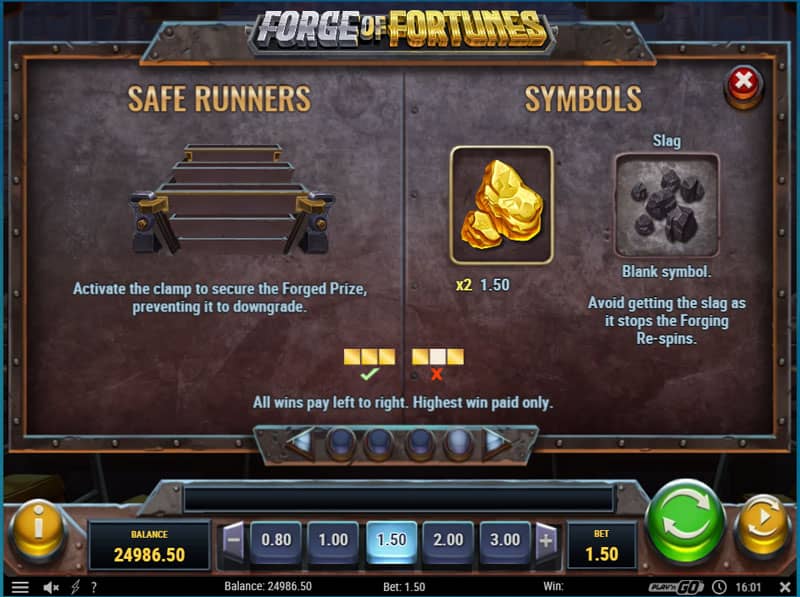 Forge of Fortunes: Safe Runners and Symbols
Forge of Fortunes Slot Features
There are only 3 symbols in this game, namely gold nuggets, coal and slag. Landing 2 gold nuggets on reels 1 and 2 awards a 1x win, which is the only regular win you can land in this game. All other payouts come from the Forging Re-spins feature.
Players need to land 3 gold nuggets to trigger the Forging Re-spins feature, and they will receive a new Re-spin as long as they land 3 gold nuggets per spin. Each Re-spin forges a new gold bar in front of the reels, which takes them up the cash prize ladder. Players are guaranteed a 2x win from the initial 3 gold nuggets and getting 2 to 14 Re-spins will award the corresponding prize of 3x, 5x, 8x, 10x, 15x, 20x, 30x, 50x, 75x, 100x, 200x, 500x, 1,000x or 2,500x the wager, respectively.
Players who land the coal symbol are moved one tier down the prize ladder, while the slag symbol halts the feature, paying out the current prize.
Summing it up
If you are one of those who simply can't get enough of those "weirdly odd but satisfying" YouTube videos, then "Forge of Fortunes" slot might just be the game for you.
As a slot with so few icons and features it comes as no surprise that the slot is repetitive, but maybe landing gold bars and seeing them being forged one by one has a soothing effect on the mind. Unless of course you reach a significant prize level because at that point, tension will surely start setting in.
Any time you hit 100x or above you will probably feel your pulse rising, although hitting the 2,500x mark might not be that easy to accomplish.
The majority of slot players will undeniably be put off by the Forge of Fortunes Slot setup, but for those who enjoy playing a one-payline slot, then Forge of Fortune might be "worth prospecting".
---
Top Slots for August 2022: One again, our players simply can't have enough of Rainbow Riches Slots while the recent Wizard Games Release of Amun Ra King Of The Gods is gaining a lot of attention from our online casino players as well!
---
Forge of Fortunes Slot FAQs
More Mine-Themed Slot Reviews