Grand Spinn
Transport yourself to the roaring 20s on Grand Spinn slot by NetEnt. You'll be feeling all glitzy and glam as you play for the chance to win one of three fixed jackpots. And if you really want to put on the ritz, there's a progressive Super Jackpot waiting to be won on Grand Spinn Superpot!
Register to play Already a member? Log in
Bonus Features:
Progressive Jackpot, Nudge Feature, Muliplier Wilds
Grand Spinn Slot Review
Return to a more sophisticated time on the Art Deco-themed Grand Spinn by NetEnt. Boost your wins with the Nudge Feature and Multiplier Wilds and throw yourself into this decadent era as you play for the chance to win one of three fixed jackpots on this most stylish of NetEnt slots. Up the jackpot potential when you play for the progressive Super Jackpot instead on Grand Spinn Superpot. Intrigued? Then read our Grand Spinn review and find out more.
Trusted by over 4,000,000 customers
Authentic profiles
100% privacy
No 3rd parties
Grand Spinn Summary & Game Review
NetEnt's Grand Spin online slot has 3 reels, 3 rows and 1 bet line.
Land Multiplier Wilds on reels 1-3 to win up to 8x your stake.
Activate the Nudge Feature with a winning combination and you could keep your wins going.
Play for the chance to win 1 of 3 fixed jackpots. Win up to 10,000x your stake on the Mega Jackpot.
Play for the Super Jackpot instead on Grand Spinn Superpot.
Bets start at £0.20 and go up to the maximum of £200.
This high variance slot has an RTP of up to 96.19%, while the maximum payout prize is a whopping £2,00,000.
Grand Spinn Glossary Index
Why Play Grand Spinn?
All the features found in the Grand Spinn casino game offer good winning potential, and in some cases great winning potential. In this high variance slot, you get Multiplier Wilds, a Nudge Feature and 3 fixed jackpots all wrapped up in one sleek package. As slot games go, this one will certainly have a broad appeal. So, step into a dazzling 1920s world and discover your own Art Deco treasures.
How to Play Grand Spinn Online Slot
With 3 reels, 3 rows and 1 payline, winning combinations are formed when you land matching symbols across all 3 reels. After a win, the Nudge Feature is triggered for even more win potential, and look out for Jackpot symbols across the reels that could signal a jackpot win. The Grand Spinn has an RTP of 96.19% and you can bet between €0.20 and €200.
Find your feet in free play mode before shaking your stuff on the 1920s dancefloor for real. This luxurious-looking slot is dripping with riches just waiting to be won!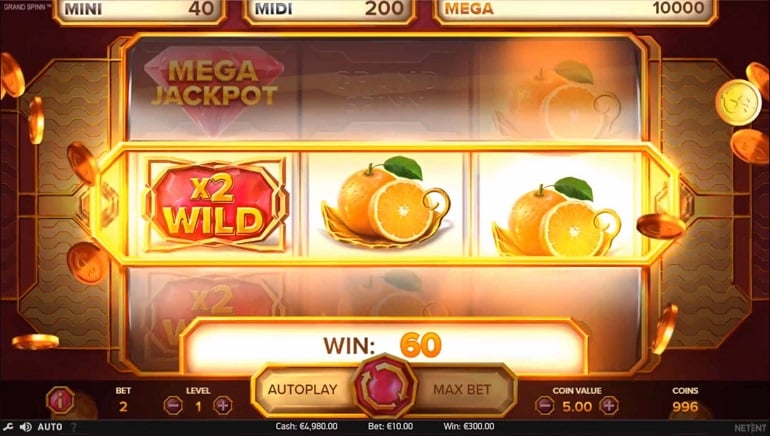 Grand Spinn Bonuses and Special Features
All the features in this glamorous slot game promise good winning potential. Let's take a closer look at each and what they offer.
Nudge Feature
The Nudge feature is triggered whenever there is a winning combination on the reels. Once the wins have been counted up, if the top symbol on the first reel matches the winning symbol the first reel will move 1 symbol down, awarding the win again. The reel will keep nudging until the symbol above the winning one no longer matches.
This process will continue on the second reel and then the third reel. When there is no longer a nudge active on a reel, you might see an up arrow symbol at the top of the reel. If this happens, the reel shifts to the bottom of the existing stack of winning symbols. The nudging will then resume and start paying from this position in the same way as above.
Multiplier Wilds
The Multiplier Wild symbols can land anywhere on reels 1-3 and substitute for all other symbols, other than the Jackpot symbols and the up arrow symbol. If you land one Multiplier Wild on a winning bet line, your win will be multiplied by 2, two Multiplier Wilds will see wins multiplied by 4, and three Multiplier Wilds mean wins will be multiplied by 8.
Jackpots
In Grand Spinn, when the nudges have ended on all the reels, you might see Jackpot symbols on the top of the reels. If each reel has a Jackpot symbol on the top of a winning stack, you will win the lowest paying Jackpot out of the Jackpot symbols present.
For example:
3 Mega Jackpot symbols - the Mega Jackpot is paid out
2 Mega Jackpot symbols & 1 Midi Jackpot symbol – the Midi Jackpot is paid out
1 Mega Jackpot symbol, 1 Midi Jackpot symbol & 1 Mini Jackpot symbol – the Mini Jackpot is paid out.
In the case of 3 Jackpot symbols landing on a bet line, but there being no winning combination on the reels, the Jackpot is awarded according to the same rules above. All the jackpots are fixed, but award different multiplier amounts:
The Mini Jackpot awards 40x your stake.
The Midi Jackpot awards 200x your stake.
The Mega Jackpot awards 10000x your stake.
In Grand Spinn Superpot, the Mega Jackpot is replaced by a Super Jackpot. This Super Jackpot is progressive rather than fixed. The minimum Super Jackpot win is €500, but the final winning amount will vary depending on the online casino.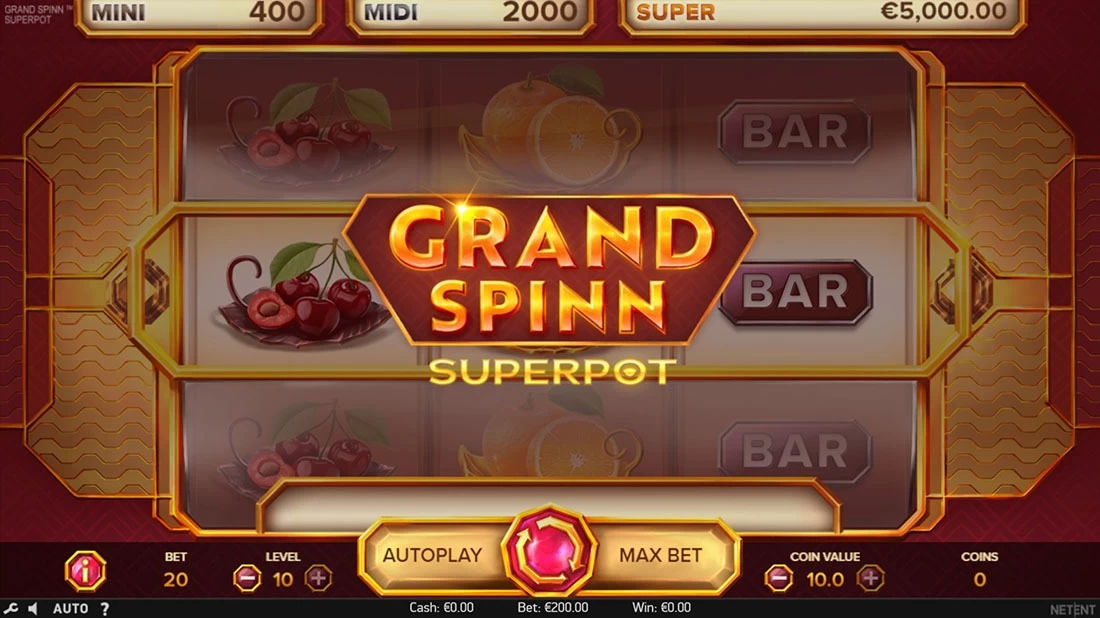 How to Bag Big Wins on Grand Spinn Online Slot
Winning in Grand Spinn is a fairly straightforward process – simply land matching symbols across all 3 reels. The symbols are bars, cherries, plums, oranges, watermelons and treble 7s, with the treble 7s paying out 20x your stake when 3 land on a payline.
Once you've achieved a winning line, the Nudge Feature will trigger automatically and your chances to win will continue so long as the Nudge Feature is still going. Landing Multiplier Wilds will also boost your winning potential – you'll get up to 8x your stake if you get 3.
The maximum win potential if you land 3 Multiplier Wilds and the maximum possible Nudges is a seriously impressive 7,040x your stake. And that's before we even get to the jackpots.
Land 3 jackpot symbols and you could win up to 10000x your stake. In Grand Spinn Superpot, this maximum win fixed Mega Jackpot is replaced by a progressive Super Jackpot.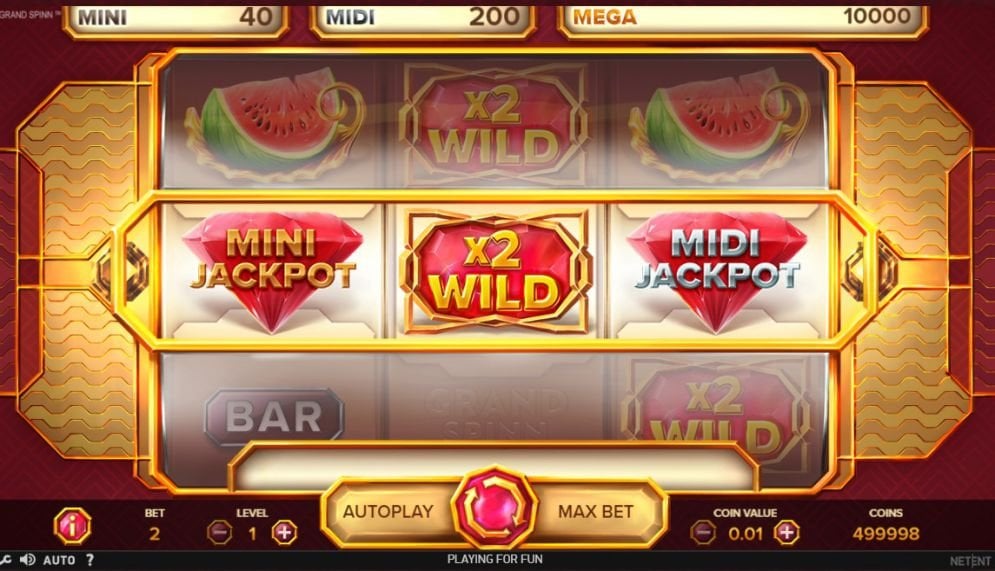 Chilled-out Tunes
You won't be dancing the Charleston to the music on Grand Spinn, instead, there's a much more easy-going, jazzy vibe to the soundtrack that won't distract you from your gameplay.
Can I Play Grand Spinn on My Mobile?
Whether it's the original or Superpot version you prefer, you can take this sophisticated slot with you anywhere, anytime thanks to Grand Spinn Touch. Available to play at the mobile casino, the classic 3-reel, 3-row layout looks great on any mobile device and offers the same quality of gameplay you would find on a laptop or desktop.
Try Out Grand Spinn For Free
Once you've registered online at PlayFrank Casino, Grand Spinn free play will be available on both versions of the game. Most popular slot games offer a free demo mode, which is a great way to fully understand a slot game and its features before deciding to bet with real money.
Ready to Play Grand Spinn for Real Money?
If you liked what you saw in demo mode on the Grand Spinn NetEnt slot and fancy seeing those winning symbols land for real money, then switch over to real play. For those of you who are already part of our Online Casino family, simply log in. If you haven't signed up yet, register today and grab yourself a welcome bonus of up to €100 while you're at it.